Location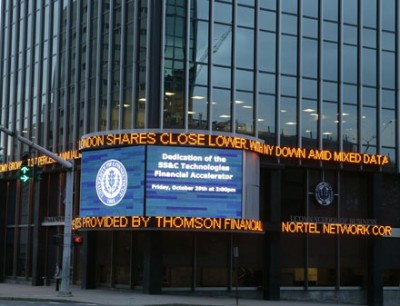 Conveniently located in Constitution Plaza – in the heart of downtown Hartford – the 40,000 square-foot facility serves two primary purposes: it houses the advanced 10,000 square-foot learning lab, the SS&C Technologies Financial Accelerator, and UConn's graduate business programs for full-time, part-time, and executive MBA as well as the MS in Business Analytics and Project Management and the MS in Financial Risk Management.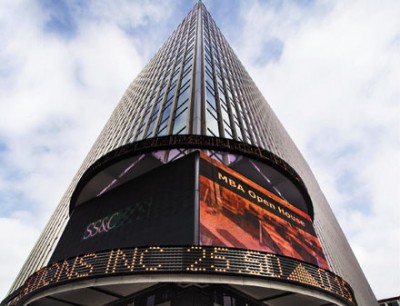 The building's premium location provides easy on/off access to both I-84 and 1-91 and city bus transportation is located directly across the street. Within one block of the UConn Graduate Business Learning Center there are numerous restaurants, Riverfront Park, the new Marriot Convention Center and several upscale hotels
Facilities
An award-winning facility, UConn's Graduate Business Learning Center is recognized for its highly sophisticated technology systems. The entire building is handicap accessible with handicap accessible restrooms on each floor and 24-hour secured access.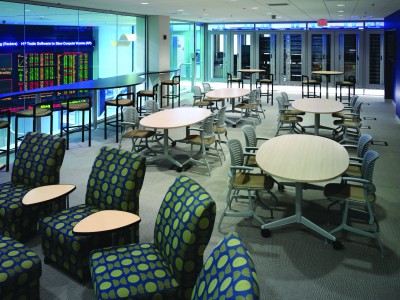 For groups interested in entertaining larger groups or in hosting a luncheon or dinner, the observation deck on the second floor provides seating for 120 people at tables, 150 in a theater-style arrangement, or 175 for a standing reception.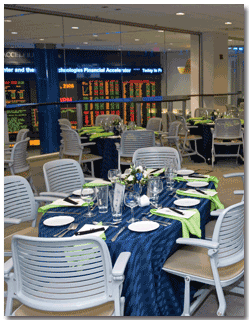 The observation deck is tastefully decorated and features floor-to-ceiling windows that look out over the trading floor of the SS&C Technologies Financial Accelerator and downtown Hartford. The area can be easily transformed from meeting space to formal dining area.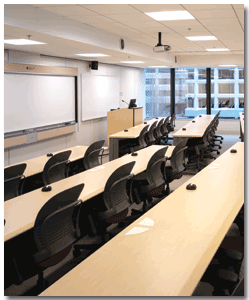 UConn's Graduate Business Learning Center houses eight 40-seat classrooms, four 46-seat classrooms, two 40-seat computer labs and three small conference rooms which hold ten people. Outfitted with the latest technology, each workspace has internet and power access and comfortable seating.
The centerpiece of each classroom is the Polyvision multimedia white board which has its own CPU and URL, allowing for whatever is on the board to be printed, saved to a disk, or even to a website.
Technology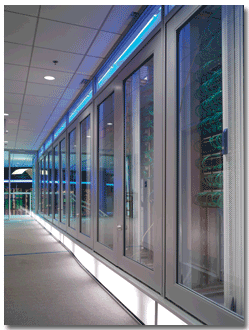 Our staff is equipped to offer you the same high-level of audiovisual service and technical support that we bring to our own graduate classrooms every day. The GBLC offers a full complement of AV and technical equipment including Polyvision LTX 1240 multimedia white board systems, data projectors, DVD players, technology labs and more.